MORE music, more programs, more quality while driving your BMW with digital radio


More programms

DAB+ digital radio allows to transport more channels in a much better quality than analog FM per frequence channel. This results in more programs and less opertational costs.

More Quality

By using an elaborated error correction algorithm, DAB+ reception is less affected by short drop outs or signal loss. Short reception interrupts can be gaped by redundant data transmitted. This gives you a much better and constant sond quality while driving with the car.


More Service
DAB+ offers enhanced text and other information through data subchannels. The DR700BMW can display these extra text upates on your original BMW iDrive screen.
The Modell DR700BMW works on models BMW 5 (E60,E61) 6 (E63,E64) X5 (E70) X6(E71) 1 (E81, E82, E87,E88) Z4 (E89), 3 (E90,E91,E92,E93)
with Navigation system SA606 Business, SA609 Professional, Radio Professional up to production month September 2008. A successor model DR750BMW (not yet released) will cover later series.
The user interface stays the same!

Operating the DR700BMW is completly integrated into the iDrive Menu. You control it via the original iDrive controler or through the buttons on the steering wheel. You can also store up to 12 favourite programs.


The DR700BMW is fully integrated into your BMW!

No fault memory, no distortion, no drained batteries. The DR700BMW will be rekognised as an original DAB unit by any BMW On Board Diagnostic System. It works with any extra equipment liike hands free system, top hifi DSP systems, Aux In, Navigation voice. The DR700BMW provides you with digital audio without the need for paying for any subscription or internet conenction.


Connection/Installation

The DR700BMW provides exactly the same jack as the original DAB reveicer (the old original one with no plus support) If your car was already equipped with the old DAB module, this is a simple pulg and play thing!

Example screen on a 2006 550i with navigation professional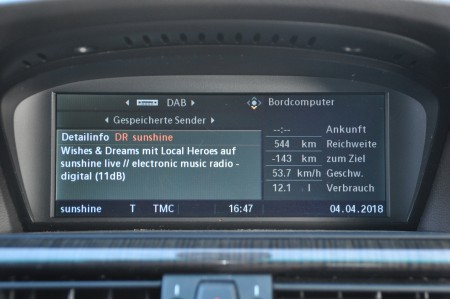 *Supported BMW Models:

BMW

MINI

E60 5er Sedan (up to Sept. 2008)


E61 5er station wagon (up to Sept. 2008)

E63 6er Coupé (up to Sept. 2008)


E64 Cabio (up to Sept. 2008)

E70 X5 (up to Sept. 2008)

E71 X6 (up to Sept. 2008)

E81 1er Coupe (up to Sept. 2008)


E82 1er Coupé (up to Sept. 2008)

E87 1er Sedan (up to Sept. 2008)

E88 1er Cabrio (up to Sept. 2008)

E89 Z4 (up to Sept. 2008)

E90 3er Sedan (up to Sept. 2008)


E91 Station wagon (up to Sept. 2008)

E92 Coupé (up to Sept. 2008)

E93 Cabrio (up to Sept. 2008)